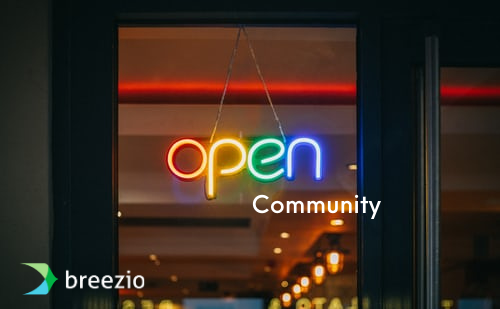 Within the past year, there has been a heightened need for community management and a shift in strategy because of increased virtual engagement. Online community platforms were ready when associations and organizations needed a virtual space to connect, network, and conduct business as usual. When you think about "online communities", you often think of an enclosed community only accessible to your members. While this has been the most common use case for associations using online community platforms, there is another way to use your community to market your association and increase membership along with your non-dues revenue opportunities: Open Communities. 
An open community is when all or most of the content in your online community is accessible to the public. There are several ways to approach an "open community" strategy such as, having content completely open to the public, but they must create a profile in order to interact, or you can allow non-members access to some communities without giving them access to your members only areas, creating massive data capture and prospecting opportunities. We're focusing on the completely "open to the public" methodology for this post. Having this information available to non-members can be helpful to your association or organization in several ways: 
Marketing and SEO for your Association
Having an open community, or an open group within your community platform, adds value to your organization by being more transparent to member prospects, and may bait them in to wanting to interact even more with your content. Content in this open group is searchable by anyone, so there are more ways for prospective members to find your community page and consume your content. The catch here is, these prospective members cannot interact with the open community unless they become members, or in some cases, at least create a profile in the community (usually via an AMS Integration or other CRM/ERP you may use as your main system of record). Powerful publishing tools in the association tech market, like Breezio, can help streamline the process of importing content while lowering the barriers for capitalizing on this approach. 
 
Advertising Opportunities 
Often times, upcoming events draw new members to associations. Including upcoming events in your open communities can be another way to show your digital presence to prospective members or non-members. This is not only advertising for that event, but it may also be an opportunity for you to sell advertising to your sponsors within communities on targeted pages or to specific segmented audiences. For example, you could offer advertising space in the event page of your community leading up to that event, giving more visibility to your sponsors while capitalizing on your community. If you have a "non-member" accessible group where all registered members and non-members can collaborate, receive updates from your organization and more, this ultimately results in more page views, users, and metrics to support a higher value ad sale in that group as well, versus say a committee group or subset of membership, which has a very limited audience and may be a lower value based on the numbers.
 
Expand to New Markets
An open community gives your organization the opportunity to be visible to new markets and new audiences. Instead of marketing to the same demographic, open communities show case the many perspectives and insights that come from your association, its staff, and its members. You can showcase to outsiders what actually goes on within your organization, from sharing new information and resources to promoting upcoming events and especially the value that members get from each other as a result of you giving them this safe space, in real time. 
The concept of open communities is becoming more widely accepted and utilized. Being transparent to prospective members can be a great benefit to your organizations footprint and ability to capture data, find new audiences, and measure what is working and what is not. We have seen many associations use this concept in Breezio to capitalize on their open community and increase membership and non-dues revenue by thinking very intentionally about where they put that barrier of entry, and the layers involved in permissions to view versus engage. This will open you up to massive growth options and good problems to have like: What do we do with all this new marketing data? Should we create certain paid programming for non-members? Worst of all, what do I do with this budget surplus now that we have used a simple open community strategy to better communicate what we do here and be more accessible to the world we're trying to change around us?
Join Benjamin Muscolino, CEO of Breezio and Teri Carden, Founder of ReviewMyAMS for a free, information-packed webinar on April 14th, 2021 @ 2:00 pm EST to learn more about setting goals for your digital strategy and increasing renewals and non-dues revenue by registering here to find out Where Community Fits in Your Overall Digital Engagement Strategy.