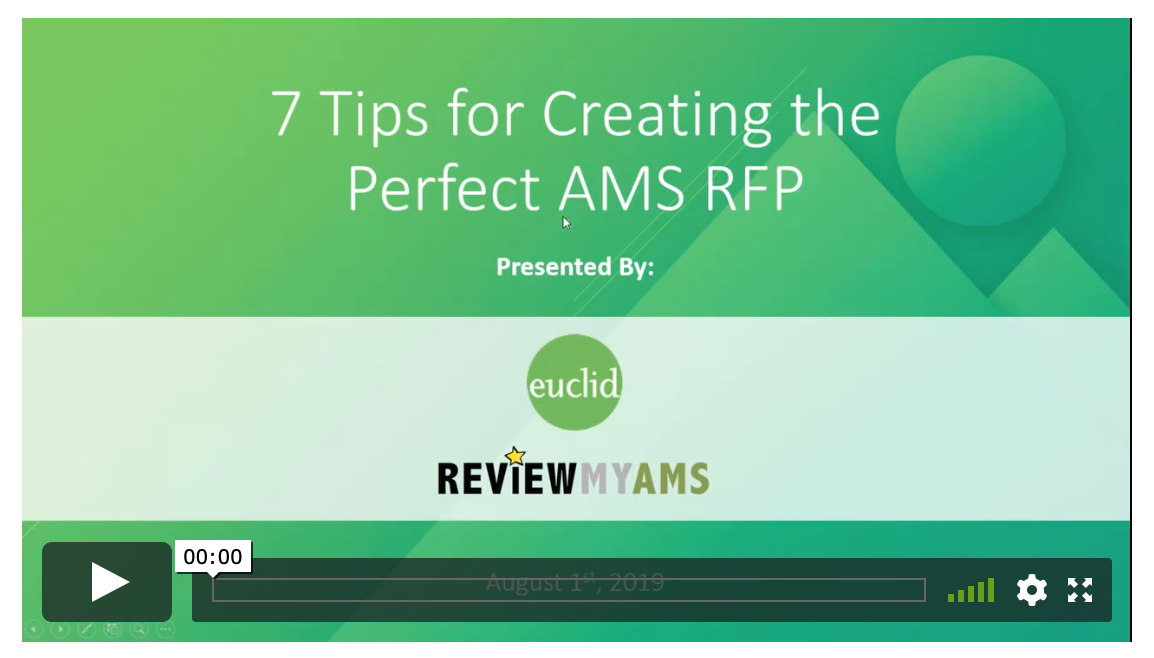 Guest post by Euclid Technology
Earlier this month, Euclid Technology and ReviewMyAMS hosted a webinar outlining our 7 tips for creating the perfect RFP. We were thrilled that so many of you were able to join us, and thought we'd provide a quick recap for those of you who missed it! 
If you'd like to watch the full webinar, you can now access "7 Tips for Creating the Perfect AMS RFP" on the Euclid Technology website.
7 Tips for Creating the Perfect RFP
1. Plan Ahead: The RFP and implementation process take time. Your association will need to build the RFP, distribute it to vendors, evaluate responses, and schedule demonstrations before you ultimately select the AMS that is right for your organization. We recommend starting the RFP development process at least a year before your association would like to go live with the new system. Rushing this process will prevent your association from carefully considering all its options and implementing all the functionality it needs.
2. Establish Project Goals: All RFPs should include a detailed list of requirements, but they should also include a shorter list of high-level project goals. An example of a high-level goal could be something like, "improve the online experience for our members." An example of a detailed requirement that would help achieve that goal could be something like "allow members to save and reuse credit card information for easy checkout in the future." While the detailed requirements are essential, high-level goals will make sure you stay focused on the big picture and serve as useful measures to evaluate the project's progress and success.
3. Include All Stakeholders: It's important to involve all stakeholders in the RFP development process. Stakeholders are not limited to association staff. Your association's board of directors, members and integration partners should also be included in the process. Involving all these stakeholders early on decreases the likelihood of any costly requirement changes mid-project and increases commitment to the project across the association. 
4. Avoid Submitting a "Wish List": If you've ever gone through the process of creating an RFP before, you've likely been told that you should start by creating a "wish list". A "wish list" is a comprehensive list of all the functionality that would be available in your ideal AMS. "Wish lists" are created without consideration of real-world constraints such as cost, time, and human resources. Putting together a "wish list" isn't necessarily a bad place to start the requirement gathering process. However, it would be a mistake to send out an unrefined "wish list" in place of the requirements document in your RFP.
Sending out your "wish list" instead of a true requirements document can lead to several issues. You may lose focus on your key project goals as the "wish list" grows longer and longer. Some qualified vendors may choose not to respond to your RFP because they can't deliver all the items on the list. You'll likely receive quotes that are outside your budget or unnecessarily high given your actual needs.
That's why it's so important to edit your "wish list" before finalizing the requirements in your RFP. We recommend going through the "wish list" and removing requirements that are unnecessary, prioritizing requirements (i.e. indicating which requirements are mandatory and which are optional), and asking vendors to itemize pricing for optional requirements. 
5. Think Beyond the Requirements Document: Associations tend to focus on the requirements document when creating an RFP. However, the RFP should contain many other pieces of critical information such as project timeline, high-level goals, organization background, and a description of deliverables just to name a few. Make sure your association spends time compiling this information in addition to the requirements.
6. Establish Your Role in the Project: AMS implementations are a cooperative process and will require time and resources from your association. Your staff will likely be involved in project management, data conversion, system testing, and training as well as other activities. Asking AMS vendors to outline what's expected of your staff during the implementation will help your organization be better prepared for the implementation process.
7. Consider the Full Cost of the Project: Nobody likes hidden fees. Asking the right questions in the RFP process can help your association avoid them. A few questions that should be included in every AMS RFP are, "what is covered under standard support?" and "are system upgrades included?"
Learn more by watching the recorded webinar here.
_____________________________________________________________________________________________________________________________________________________
Ready to Start the Process?
Euclid Technology is a leading provider of association management software and offers solutions for associations and nonprofits of all sizes. Whether you're starting the RFP process or just interested in learning more, please visit Euclid Technology to get in touch.