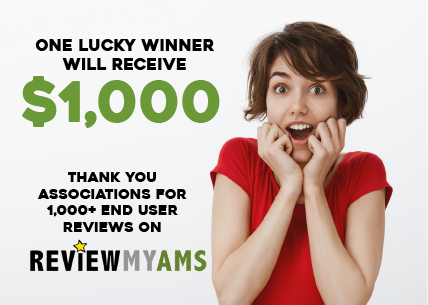 We are beyond excited about ASAE 2019 in Columbus, OH in a few weeks! Why? Because we get to celebrate YOU! The amazing association community: All 1000+ reviewers, AMS partners, industry supporters and thought leaders that have given time to ReviewMyAMS. We want to THANK YOU for making ReviewMyAMS such a success! So we're offering $1,000! Wait, what? Yes, $1,000 to one lucky winner to spend any way they wish!  
Here's what to do…
Visit one of our AMS supporter vendors exhibiting at the ASAE Expo and tell them that ReviewMyAMS sent you. 
Snap a picture with you and someone from their booth.
Email the picture to asae@reviewmyams.com.
ReviewMyAMS Exhibiting Sponsors: In other words, THIS is who you should visit.
ACGI Software – 1333
Advance Solutions International (ASI) – 1823
Altai Systems – 1936
Cobalt – 1651
Community Brands (Aptify, NimbleAMS, netFORUM, YourMembership) – 1523
Euclid Technology – 1639
Fonteva – 1301
Impexium – 1723
MemberNova – 1414
MemberSuite 1656
Naylor Association Solutions – 1323
NOAH AMS – 1431
Novi AMS – 1807
Personify – 1701
Protech Associates - 1729
For every photo submitted, you're entered into a $1000 drawing. Only one photo per AMS booth visit.  Make sure that every photo is emailed by Tuesday, August 13th, at 9:00am.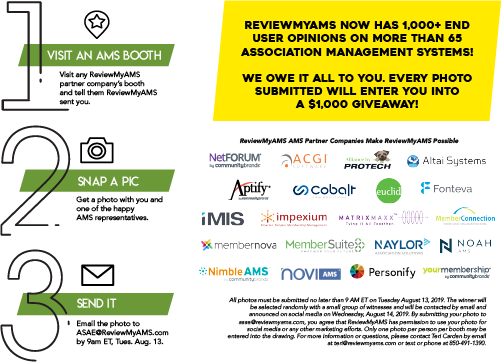 Need a little help choosing educational sessions to add to your schedule? Here's a few we recommend.
In addition, check out these unique experiences:
The Technology Playground, an immersive, innovative, and interactive environment featuring tech both familiar and premiering. Take a seat, recharge, and update your knowledge of the possibilities of connected technology. Hosted by Community Brands. The Technology Playground will be open August 11-12, from 8:00am-5:00pm, and August 13 from 8:00am-12:30pm
The Power Up Smoothie Bar, a place to take a break from the conference, charge your phone, and power yourself with a free smoothie. Follow @FontevaInc for special on-site contests and promotions. Open August 11-August 13. Hosted by Fonteva
The Idea Party, a small product and services bazaar with DJ and dancing to follow. Monday, August 12, 5pm - 7:30 (Bazaar and Happy Hour) then 7:30pm-12am (DJ, Dancing and Hanging Out), Granero Lounge, 51 Vine St. All are welcome!
Need help in preparing questions to ask the AMS providers? Our founder, Teri Carden will be on-site at ASAE Annual and would love to meet with anyone interested in talking AMS, data, selection, implementation or anything else that you'd like to discuss. Please reach out to her via email at teri@reviewmyams.com or text her at 850-491-1390.
Now, let's celebrate and good luck with the contest! See you soon & safe travels.