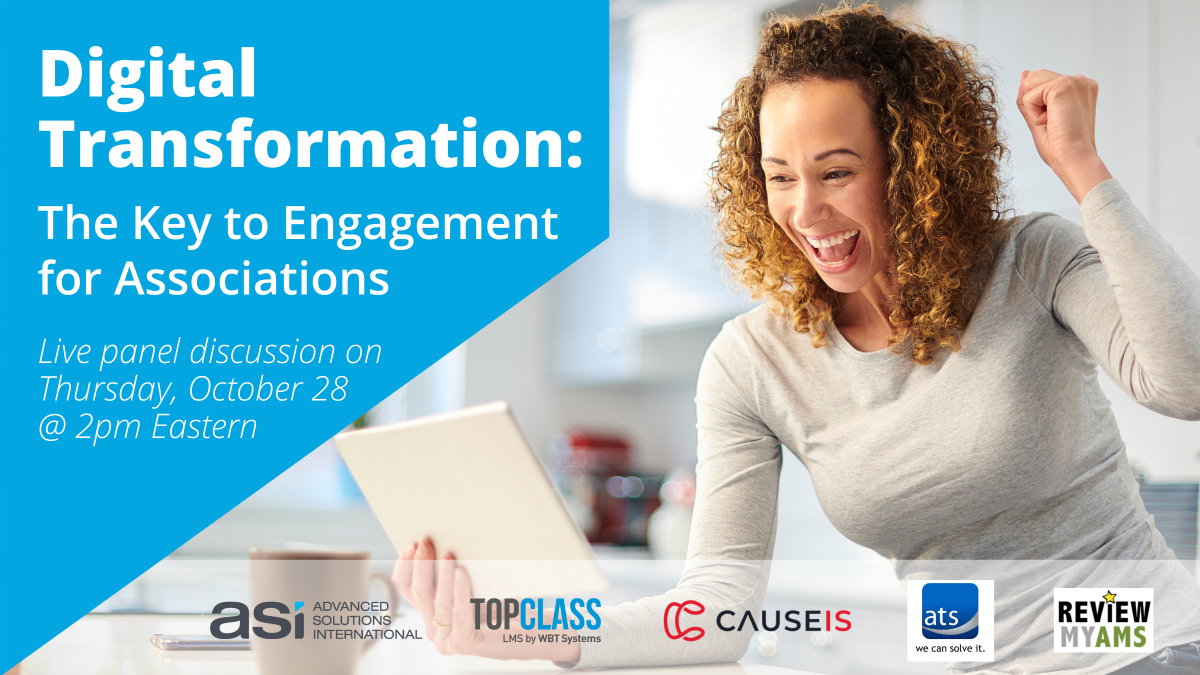 Guest post by Advanced Solutions International (ASI)
For associations that were prepared, the COVID-19 pandemic offered an unexpected opportunity. Those with the right tools in place rapidly reached a turning point that's been called "digital transformation."  But what does digital transformation really mean for associations?  
It's all about the integration of digital technology into every facet of your organization. It improves and streamlines how your association operates and delivers value to members. It will likely require a cultural shift and a commitment to continually experiment and question the status quo.
The most effective strategy will depend on the overall objectives of your specific association, but it should address the following areas: 
Processes: Reinventing your processes in order to lower costs, enhance member services, and improve efficiency.

Business Model: Exploring whether alternative ways of conducting association  business could increase the value you deliver to members.

Technology: Evaluating how new technologies can redefine your association's services and products.

Culture/Organization: Changing mindsets, processes, and staffing/skill sets to create flexible workflows, decentralized decision making, and a greater focus on testing and learning.
You must have a strategy that you're managing to meet — failing to plan is planning to fail. And the most critical component of any association's digital transformation strategy is ensuring you have effective association management software that can support your objectives today and well into the future.
So, how do you build a winning plan? There are many, many things to consider, but based on ASI's experience in working with more than 4,000 clients worldwide, we've found the most successful associations invariably focus on the following 3 core components: 
Creating One Source of Truth: Your association must have a single source of data that drives optimal decision making. That data must be up-to-date, accurate and comprehensive — coming from every aspect of the system, including finance and activity history. Members and staff must interact with one system — where websites and databases emanate from the same source.

Building Multi-Dimensional Web Content: It's critical that you create a dynamic web environment where members find compelling content and useful resources that are personalized to their interests and needs. They want to serve themselves on their schedule, but they don't want to compromise on the quality of the information they're able to find on their own or spend too much time looking for it. They want to effortlessly engage with your association and their colleagues.

Becoming a Learning Organization: The key to success in any organization is devoting  energy to learning — to becoming a "Learning Organization." You want to engage your members in every interaction they have with your association and learn all you can so your organization can understand, adjust, and thrive.
We'll delve into these components in more depth below. But whether you're just starting out or have been on your journey for some time, you'll want to be sure to attend a complimentary digital transformation webinar we're hosting in conjunction with ReviewMyAMS on Thursday, October 28, 2021, at 2:00pm Eastern. We'll be passing along invaluable best-practice advice and sharing client case studies to help guide your planning. Register here for the live event. 
Digital transformation removes obstacles and facilitates the achievement of your primary directive — to engage members. The standout evidence from the pandemic is that the associations that had already started moving down the digital transformation path (with cloud-based systems) continued to conduct business pretty much as usual without the need for staff to visit locked-down offices. Members of these associations experienced little to no break or slowdown in services. This is a vital lesson in learning how to prepare for the next crises you may face. 
Now that you know the importance of digital transformation and what to consider for your strategy, let's explore how you can do that:  
Establishing a Single Source of Truth
Your business system and websites need to be one and the same. You need to find a modern engagement management system (EMS) to support your transformation strategy. It needs to be one database, one complete, up-to-date historical member record that gives you complete confidence in the integrity of your data. It needs to offer accurate member intelligence so you can make smart business decisions. And it needs to be powerful yet user-friendly. Your staff should be able to easily make changes to the association management software, especially to your web pages, without programmer help. Maintaining data security and upgrades should be someone else's problem. There should be no more data silos or costly integrations.
 
Growing the Multidimensional Web Content Experience
For organizations of all kinds, the pandemic made clear the overwhelming value of making things happen online. But COVID-19 was just the accelerant for this timely and universal truth. The associations that succeeded best — and continue to do so — rely on association management software that is the source of both the business system and websites. This makes for a dynamic, personalized web experience for both members and association staff. An addition or a change to the database reflects immediately in personalized web views and on comprehensive, personalized dashboards that are inward-looking websites. Member portals allow constituents to sign up for events or courses, pay dues, manage profile updates, and conduct other business and see updates immediately on the web. The website experience may also include a learning management system (LMS) to make continuing professional education or credentialing straightforward and convenient for both members and staff.  
 
Cultivating a Learning Organization
Everything begins and continues with the goal that we learn from everything we do. As the leader of an association, you understand this directive matches and advances your own goal to ensure that your organization is the primary source of information for your constituents. To become and remain a learning organization, many elements must be aligned — especially membership systems, websites, and mobile devices. Ongoing Continuous Performance Improvement is realized through a thorough, long-term journey of fine-tuning to ensure your association management software is always functioning in a way that maximizes your organizational learning about your members.
 
Streamlining Performance with the Cloud
Another benefit of moving to the cloud and transforming digitally is that it shifts the burden of protecting against cyber threats — which have increased significantly since the beginning of the pandemic — from your association to your software supplier. You don't have to keep up with the volume of threats that can attach yearly costs as high as $100,000 and demand the full-time attention of dedicated personnel. Digital transformation begins with a change in mindset. It includes a commitment to shed all customizations, except those that are truly necessary. This reduces costs and keeps the upgrade path clear for your association management software. A clear upgrade path is one of the hallmarks of digital transformation, and one of its most significant values.
 
Choosing a System That Will Support Your Transformation Strategy
You need a system that intuitively understands the specific needs of associations. An engagement management system (EMS) fuses database management and web publishing into a single system that's modern, innovative, scalable, and ready for the demands of today's association. It should include events, dynamic dashboards, engagement scoring, certification and educational programs, fundraising, open API and application management, advertising, a learning management system (as necessary), and more. With an engagement management system, your business system and websites are one and the same, which means that every interaction has the potential to deepen engagement.   
Specifically, you should look for a purpose-built engagement management system with:
Native AMS/association-specific features
Native accounting/financial management
Native CMS/Website creation and management capability
Next Steps
If you're considering new association management software in the next few years as part of your digital transformation strategy, we suggest the following next steps:
Analyze your operational effectiveness
Identify areas for improvement
Build internal consensus on priorities
Develop a detailed roadmap for your transformation
Learn more
Be sure to join ASI and ReviewMyAMS for a panel discussion about Digital Transformation: the Key to Engagement for Associations on Thursday, October 28th, 2021 at 2:00pm ET. Register now!