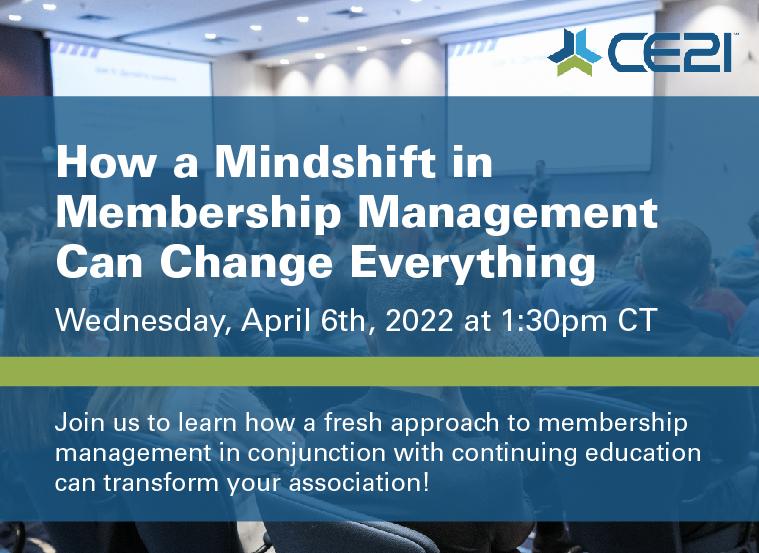 Guest blog post by Rick Rutherford, CE21
Looking back over the past two decades so much has changed in the life of an association, yet many of the same challenges they have faced over those years remain front and center. Member recruitment, member retention, member engagement, non-dues revenue - each of those are as constant as the seasons on the calendar. 
During this time technology has evolved as a force in how associations operate day-to-day. This includes the advent and transformation of membership management systems, learning management systems, virtual meetings, online…well, almost everything. 
While technology has grown to become a powerful asset for organizations, it has also been a great disruptor. Associations stuck in a status quo mentality have fallen behind in the services and value they offer to members and prospects. The competition associations face today has never been tougher. For-profits utilize the same technology to compete for your member's attention and dollars.
Associations are experiencing an ongoing generational shift in membership demographics. As this shift continues experience has shown that the younger members who make up the largest percentage of association membership have much different expectations on what good membership value means to them. Organizations lagging in their offerings will face a much tougher time remaining relevant to these members.
And if those challenges weren't enough, a little thing like a global pandemic came along in 2020 and took disruption to a whole new level, wreaking havoc in almost every aspect of our personal and professional lives. We've lost friends, colleagues, co-workers, loved ones. We would all love for life to return to the way it was, but how could it?
Just like businesses in the private sector associations have fallen victim to the damage caused by the pandemic, losing not only members and sponsors, but staff as well. The age-old mantra of "doing more with less" has taken on a deeper meaning for many associations. Having access to the right technology to effectively serve members has never been more important.
When CE21 began in 2015 the idea was to pull together all that we had learned in our careers working with associations and continuing education entities and take on those problems that had remained unresolved for far too long. We were, and still are, focused on the end user experience. How does technology empower association staff to best serve their members' needs? 
As we began development on our membership management software, CE21 chose to focus on what we believe is a mind shift in the approach to this technology. It begins with the belief that continuing education and professional development are central to the member experience. We see this in a time when industries and professions are being disrupted like never before. Professionals are seeing both jobs and industries forced to radically change or in some cases, going away. The need for people to make mid-career course changes has never been greater. Associations have the unique opportunity to help these people land and flourish in new careers. 
We made the decision to build our membership management software with our established learning management software as the foundation. This fundamentally changes the experience for both members and association staff. A single system requiring one login, providing an enhanced user experience to access the products, content, and services they desire.
For Willis Turner, CAE, CME, CSE, the President and CEO of the Sales and Marketing Executives, Intl., being able to work in a system like this has had a significant impact in serving his organization's worldwide membership.
"The thing that we've noticed (with CE21's system) is the dramatic reduction in the number of staff hours that are needed to manage membership and the learning experience for our members, "Turner said. "The automation in the system is taking a burden off the staff as well as it's taking a burden off the member."
"Having a dashboard where we can log in and see what's happening within the membership makes a difference," he added. "We can use automated systems to remind members of their membership renewals as well as reminders for their certification programs. Just having that ease of moving seamlessly between membership products and the educational courses they need, that's really spectacular. "
Ready to Make a Shift?
Join Casey Jones and Rick Rutherford from CE21, along with Teri Carden of ReviewMyAMS and special guest Willis Turner, CAE, CME, CSE of SMEI, on April 6, 2022, at 1:30 PM CDT, to learn how a fresh approach to membership management in conjunction with continuing education, can transform your association today. Technology that frees up staff to interact more strategically with members. Technology that automates processes providing freedom to members to engage with their association in ways that meet their expectations. Register here today!