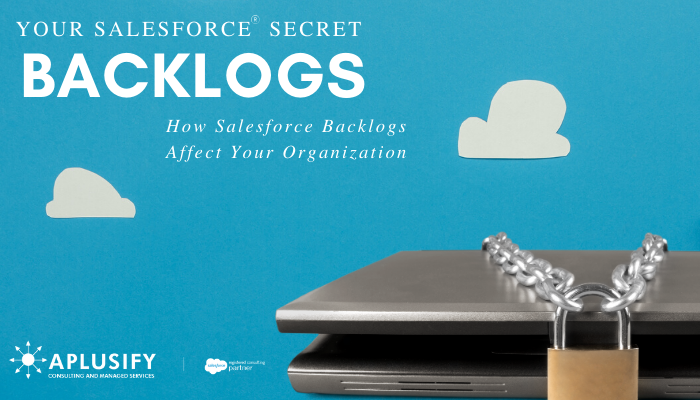 Guest post by Aplusify
Your Salesforce Secret - Backlogs
Every organization has a backlog. There is always something that needs to be done, can be improved on or is simply on a wish list. The first step in tackling the ever-growing list of to-dos is to figure out exactly what's on your backlog. Categorizing them into buckets will help you determine what tools and resources you can access to quickly mark off your tasks. 
Backlog Buckets
Here are a few buckets we use and examples of what falls into each bucket...
1. Data Cleansing
Redundant data
Incomplete records  
2. Data Integration
Not seeing updated membership payments in Salesforce
Sending conference registration invitations via email to members who have already registered
3. Data Import - Export
Syncing Calendars with Salesforce
Viewing Emails as it related to a Salesforce record
4. Website Integration
Record creation on the website is not updating Salesforce records
Inquiries made on the website are not being routed to the correct department
5. Dashboards & Reports 
Real-time analytics on member registrations and dues
Prominent member issues
6. Marketing Automation
Creating campaigns that automatically trigger workflows based on a member's action
Updating records based on email open and bounce status
7. Sales Automation
Triggering follow-up tasks for departments based on the status of sponsor sales, grants, etc.
Developing templates and workflows for invoices, statements and payment processing
8. User Interface
Enabling Single On (SSO) for multiple apps
Converting from Salesforce Classic to Lightning 
9. Member/Donor Services
Invoices displaying incorrect data such as renewal date, amount, bill to, etc.
Password Resets
Technical Assistance with how to use member benefits
Why Categorizing Helps
1. Visibility: Knowing what needs to be done is half the battle. Categorizing tasks/projects into buckets helps you gather similar issues that might require the same skill sets and/or meet similar organizational objectives. This process gives you a starting point in developing your attack plan.
2. Organizational awareness: Letting the left hand know what the right hand is doing can eliminate duplicate efforts and align business processes. 
3. Prioritization: Once you have categories filled, you can easily view which buckets take priority and which issues/tasks within each bucket take priority.
4. Clarity: Easily assign a team and critical individuals to buckets which makes it clear who owns projects, issues and business processes.
5. Efficiency: Eliminating duplicative efforts, streamlining processes and clear ownership will effectively complete items on your backlog. 
How Salesforce Backlogs Affect Your Organization
Revenue Loss: If not addressed, unresolved issues concerning money can lead to lost dollars, misallocated funds and/or inaccurate financial view of the organization. Imagine the following scenarios:
Invoice is sent out with last year's membership rate structure. Unless you become aware of the discrepancy, what happens to the loss in dues-revenue?
 Your donors respond to a match-making campaign where their donations are matched by a corporate donor. If it is not earmarked correctly in Salesforce, will you be reporting a lower amount for your corporate donor to match?
Are your credit card batches being settled correctly? If not, unprocessed credit cards are uncollected funds that could be in your bank.
Member/Donor Satisfaction: A happy member/donor is a renewing member/donor. Reputation management hits every department of an organization. When it comes to technology, members/donors expect organizations to:
Easily assist with technology issues such as password resets and unable to download or read documents 
Quickly resolve questions with someone who has a complete understanding of their record
Organizational Inefficiency: Many departments will implement processes to work around Salesforce. Reasons could include:
Lack of technical skills or support in the organization
Workflows or metrics do not exist in Salesforce 
Legacy processes are just easier to maintain.
Regardless of the reason, it's quite possible that there is duplication effort, unnecessary reporting, and inaccurate information from different data silos. 
Administrative Burden: There are some issues that organizations keep band-aiding. By not fixing the root cause of the problem, then the issue will continue being an issue. Imagine the hours spent on addressing every question/concern. Estimate how much time it will take to fix the problem. Now, calculate how much time you can save and put towards another project.
Having a backlog is inevitable and a result of an evolving organization. So, it's really not a secret at all. You're not alone.  All you need is time, skills and the tools to tackle your to-do list. Join us on a live webinar as we discuss specific tools we recommend that will help you manage your backlog and address specific issues we see in nonprofits and associations.
_____________________________________________________________________________________________________________________
Join Us for Our Webinar

Join ReviewMyAMS and Aplusify for a complimentary webinar about managing your Salesforce® backlog. 
Is Salesforce Backlog Affecting Your Organization's Efficiency?
Find Out Ways to Herd the Cats and Effectively Get your Backlog Under Control
Date: Tuesday, April 14, 2020
Time: 1:00 pm EST
Register HERE!
About Aplusify
Aplusify provides associations, nonprofits and higher education institutions with the capacity and capability of maximizing their Salesforce platform. Our team of Salesforce-certified experts alleviates the technical weight of implementing and managing Salesforce so that you can focus on strategy and organizational mission. Find out how we can save you time, money and stress with our Salesforce Managed Services.